Jual Reyes - The Law Offices of Jual F. Reyes
Jual Reyes
The Law Offices of Jual F. Reyes
1875 Century Park East, Suite 600
Los Angeles, CA 90067
View On Google Maps
Jual Reyes

The Law Offices of Jual F. Reyes
Attorney Profile
Practice Areas
Law School
UCLA
2000 - 2004
Website
(310) 854-5917
---
Jual F. Reyes Attorney at Law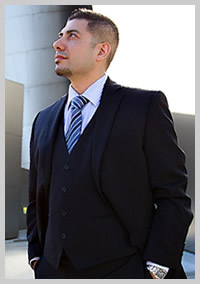 Mr. Reyes was born and raised in Los Angeles, California. He graduated from the University of California Los Angeles with a Bachelor of Arts in Political Science and obtained his law degree from the UCLA School of Law.
Prior to opening his own practice, Mr. Reyes was employed at a large law firm in Los Angeles representing Fortune 500 companies in various complex litigation matters. He provided clients with practical advice to prevent them from being the target of a lawsuit or limit their exposure after the filing of a lawsuit. Mr. Reyes worked on a wide variety of matters, including cases involving employment discrimination, elder abuse, landlord/tenant matters, personal injury and breach of contract matters. His comprehensive experience, and extensive work with individuals and corporations, affords his clients the benefit of his broad understanding of the numerous aspects of a particular legal matter.
Education
Mr. Reyes received his B.A. degree, cum laude & college honors, from the University of California Los Angeles and was a member of Golden Key National Honor Society, Pi Sigma Alpha, and Alpha Gamma Sigma. During college, Mr. Reyes interned as a congressional liaison at a Washington, D.C. based government consulting firm. He received his J.D. degree in 2004 from the UCLA School of Law, where he was the Managing Editor of the Chicano Latino Law Review and a member of the La Raza Law Student Association. Mr. Reyes also participated in moot court competitions and successfully mediated an actual case into settlement.
Memberships and Associations
Mr. Reyes is a member of the California State Bar and UCLA Alumni Association. He has been a licensed real estate broker in the state of California since December of 2008. Mr. Reyes is admitted to practice law in all courts in the state of California and the United States District Court, Central District of California.
---